Infantry Regiment 950 (Ind)
FREIES INDIEN
In January 1942 the German Propaganda Ministry announced the establishment of the Free Indian Legion. Indian prisoners-of-war were transferred to a camp designated Arbeitskommando Frankenburg where military training was initiated by German officers and NCOs. About 300 volunteers were later transferred to Konigsbrück near Dresden in Saxony where German Army uniforms were issued. A specially designed national arm badge in the shape of a shield was worn on the right upper arm, with three horizontal stripes in the saffron, white and green Indian national colors and featuring a leaping tiger superimposed over the tricolor and with the legend "FREIES INDIEN" in black characters on an integral white background above.
German Uniforms With Turban
Uniforms were of the German army pattern but Sikhs in the Legion were permitted to wear a turban as dictated by their religion instead of the usual peaked field cap.
More Than 3,000 Members
The recruits now constituted the Legion Freies Indien of the German Army and took their oath of allegiance in a ceremony at Konigsbrück on 26th August 1942. The ranks of the new Legion were swelled until it eventually boasted more than 3,000 members and was referred to as Indisches Infanterie Regiment 950.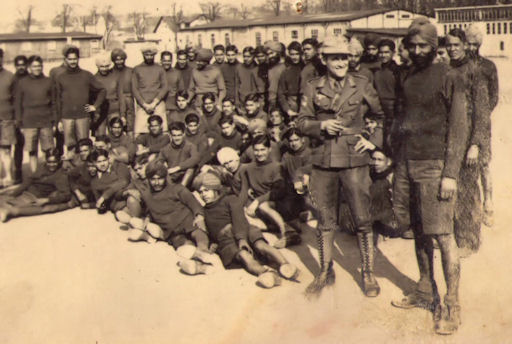 Koningsbruck Lager - (L.C. Chopra via War Photo Holland)
Part Of Waffen-SS
The Indian volunteers of the Legion saw service in The Netherlands, France and Italy before their eventual withdrawal to Germany, transfer to the SS and redesignation as the Indische Freiwilligen Legion der Waffen-SS.
What others say about the book:
"a most valuable and timely contribution to the literature of the war ... does much to redress the tabloid version of the Second World War the world has accepted"
Mihir Bose, Author, Journalist, Broadcaster, former BBC Edito and Biographer of Subhas Chandra Bose.
"A priori we never really know what will lead to success: When all is said and done, the attempt to set up an Indian Legion certainly seemed a worthwhile effort for the Indian side and, for probably other rea­sons, for the various German actors, as well. I sincerely hope that this book will be of interest to many people concerned with the topic of Indo-German rela­tions in a historic perspective and with this little-known part of British colonial history. "
Prof. Dr. Anita B. Pfaff, daughter of
Subhas Chandra Bose.