About The Book
History
The book presents the history of the "Free Indian" volunteers in the German and Italian armies during the Second World War.
Patriotic Indian Nationalist Soldiers
It is the story of a group of patriotic Indian Nationalist soldiers, who, after volunteering to fight with the British Indian Army after the outbreak of the Second World War, found themselves fighting the Axis forces in the North African Desert.
Incarcerated In Camps
After their capture by Rommel's Afrika Korps, as well as Italian forces, a number of these men were inspired by the charismatic Indian Nationalist leader Subhas Chandra Bose to join a German Army regiment composed of Indians dedicated to the cause of the freedom of India from British colonial rule. Doomed never to fight for their homeland, the Free Indian Legion served as part of the German "Atlantic Wall" garrison until its retreat across France to Germany and eventual surrender in the Austrian Alps. Regarded as traitors by the British authorities for breaking their oaths of allegiance to the British "King-Emperor"; the soldiers of the Free Indian Legion were incarcerated in camps in India before their release in 1946 prior to the independence which they had sought for India.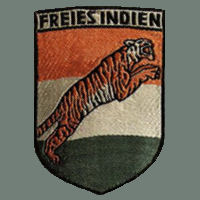 Embleem / Arm Badge of 40 IR 950 - ©Bamber
What others say about the book:
"a most valuable and timely contribution to the literature of the war ... does much to redress the tabloid version of the Second World War the world has accepted"
Mihir Bose, Author, Journalist, Broadcaster, former BBC Edito and Biographer of Subhas Chandra Bose.
"A priori we never really know what will lead to success: When all is said and done, the attempt to set up an Indian Legion certainly seemed a worthwhile effort for the Indian side and, for probably other rea­sons, for the various German actors, as well. I sincerely hope that this book will be of interest to many people concerned with the topic of Indo-German rela­tions in a historic perspective and with this little-known part of British colonial history. "
Prof. Dr. Anita B. Pfaff, daughter of
Subhas Chandra Bose.