Subhas Chandra Bose
Respected Leader
Subhas Chandra Bose was born 23 January 1897 in Cuttack, Orissa and died in an aircraft crash on 18 August 1945 in Taiwan. Popularly known as Netaji ("Respected Leader"), he was one of the greatest leaders in the Indian independence movement.
Escaped to Germany
Following the outbreak of the Second World War, Bose advocated a campaign of mass civil disobedience to protest against Viceroy Lord Linlithgow's decision to declare war on India's behalf without consulting the people of India. Having failed to persuade Gandhi of the necessity of this, Bose organised mass protests in Calcutta. He was thrown into jail by the British, but was released following a seven-day hunger strike. Although Bose's house in Calcutta should have been under surveillance by the British, their vigilance left a good deal to be desired and Bose escaped to Germany, via Afghanistan and the Soviet Union.
Free India Centre in Berlin
In Germany he founded the Free India Centre in Berlin and recruited the Indian Legion from Indian prisoners-of-war who had previously fought for the British in North Africa prior to their capture by Axis forces.
Bose left Nazi Germany in 1943, travelling on board a German U-Boat around the Cape of Good Hope. Near Madagascar he transferred to a Japanese submarine for the voyage across the Indian Ocean and then on to Japan. There the Japanese helped him to raise an "Indian National Army" in Singapore.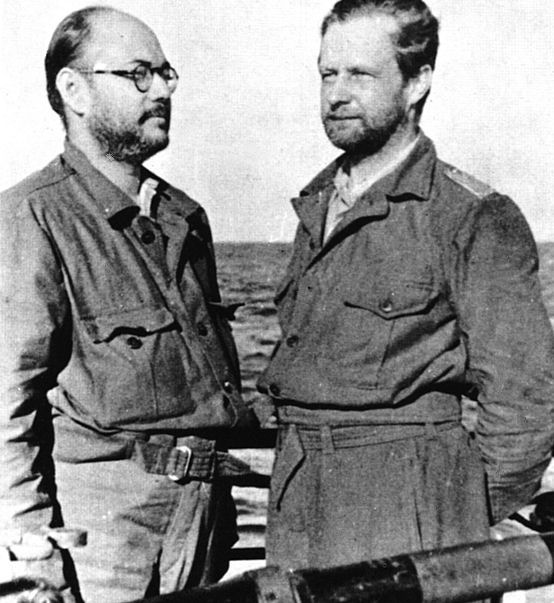 Bose and Korvettenkapitän Werner Musenberg onboard U181 ©Neeven
What others say about the book:
"a most valuable and timely contribution to the literature of the war ... does much to redress the tabloid version of the Second World War the world has accepted"
Mihir Bose, Author, Journalist, Broadcaster, former BBC Edito and Biographer of Subhas Chandra Bose.
"A priori we never really know what will lead to success: When all is said and done, the attempt to set up an Indian Legion certainly seemed a worthwhile effort for the Indian side and, for probably other rea­sons, for the various German actors, as well. I sincerely hope that this book will be of interest to many people concerned with the topic of Indo-German rela­tions in a historic perspective and with this little-known part of British colonial history. "
Prof. Dr. Anita B. Pfaff, daughter of
Subhas Chandra Bose.