Sample Pages
Please Select a Chapter from the menu below
Chapter 2: The Formation of the Legion Freies Indien
Following the distinctly disappointing results of his first recruiting effort for the Indian Legion, Bose now asked the Germans for the Indian NCOs, who so far had largely remained loyal to their oaths to the British Crown, to be removed from the Annaburg camp. Recruiting efforts were now able to proceed anew and the first of the Indian volunteers were now able to move freely among those who had previously been too fearful to come forward while under the gaze of their senior ranks.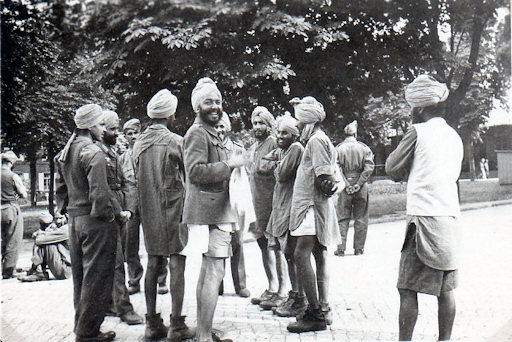 A Sikh soldier from the Legion (second from the left) speaks to a group of prisoners-of-war in an attempt to persuade them to join him. (Christopher Ailsby Historical Archives)
A short time later Bose made a second and rather more fruitful visit to Annaberg and by 4th January 1942 Hassan and Swami had provisionally selected small parties of Indian prisoners for release from their confinement in Annaburg and transfer to German military training camps.
What others say about the book:
"a most valuable and timely contribution to the literature of the war ... does much to redress the tabloid version of the Second World War the world has accepted"
Mihir Bose, Author, Journalist, Broadcaster, former BBC Edito and Biographer of Subhas Chandra Bose.
"A priori we never really know what will lead to success: When all is said and done, the attempt to set up an Indian Legion certainly seemed a worthwhile effort for the Indian side and, for probably other rea­sons, for the various German actors, as well. I sincerely hope that this book will be of interest to many people concerned with the topic of Indo-German rela­tions in a historic perspective and with this little-known part of British colonial history. "
Prof. Dr. Anita B. Pfaff, daughter of
Subhas Chandra Bose.