Sample Pages
Please Select a Chapter from the menu below
Chapter 6: Retreat to Germany and Transfer to the Waffen-SS
On 8th August 1944 the Legion Freies Indien, comprising: (ind.) I.R.950 in France [under the command of O.B. West], the Ersatzkompanie at Königsbrück, the Sonderkompanie at Nauendorf and the Legion's Vehrsehrtenheim (Convalescent Home) [all still under the command of Wehrkreis IV], like all the other foreign "Legions" of the German Army was formally ordered to be transferred into the control of the Waffen-SS. The change to take place with effect from 15th August. The Legion Freies Indien was now officially known as: Indische Freiwilligen Legion der Waffen-SS.
In late July a new commanding officer for the Legion had been appointed by SS-Obergruppenführer und General der SS Hans Jüttner: the Chief of Staff of the SS-Führungshauptamt (SS Main Operational Office) and Stellvertretender Chef H Rüst u BdE (Deputy Chief of the Replacement Army). The new commander for the Indians was SS-Oberführer der Reserve Heinz Bertling who had been transferred to the command of the Indian Legion from the Staff of the SS-Führungshauptamt.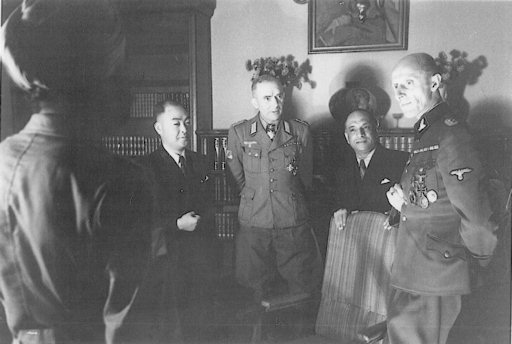 SS-Oberführer Bertling stands on the right, next to A.C.N. Nambiar and Oberst Krappe at the ZFI Berlin, Autumn 1944. (Peter Krappe Collection)
What others say about the book:
"a most valuable and timely contribution to the literature of the war ... does much to redress the tabloid version of the Second World War the world has accepted"
Mihir Bose, Author, Journalist, Broadcaster, former BBC Edito and Biographer of Subhas Chandra Bose.
"A priori we never really know what will lead to success: When all is said and done, the attempt to set up an Indian Legion certainly seemed a worthwhile effort for the Indian side and, for probably other rea­sons, for the various German actors, as well. I sincerely hope that this book will be of interest to many people concerned with the topic of Indo-German rela­tions in a historic perspective and with this little-known part of British colonial history. "
Prof. Dr. Anita B. Pfaff, daughter of
Subhas Chandra Bose.